What better way to celebrate the end of triathlon season and the middle of marathon season with a look at some of your best and worst racing experiences. Some of my answers really surprised me!
Best crowd support
I don't think there is any race with better crowd support than the
New York City Marathon
. The only part of the course with no spectators was the Queensboro Bridge and once you enter Manhattan you are greeted with a wall of screaming spectators. I seek out races with lots of crowd support so obviously I loved this race. I mean, its the New York City Marathon!
Hottest race
Hands down
General Smallwood International Triathlon 2012
. The real temperature was over 100 with a heat index of 107. Forty athletes were pulled from the course and the sprint triathlon the following day was cancelled because of the extreme heat. And this was my first triathlon. Oof.
Coldest race
The
York YMCA Turkey Trot 5K 2013
. It was somewhere around 25 degrees. Enough said.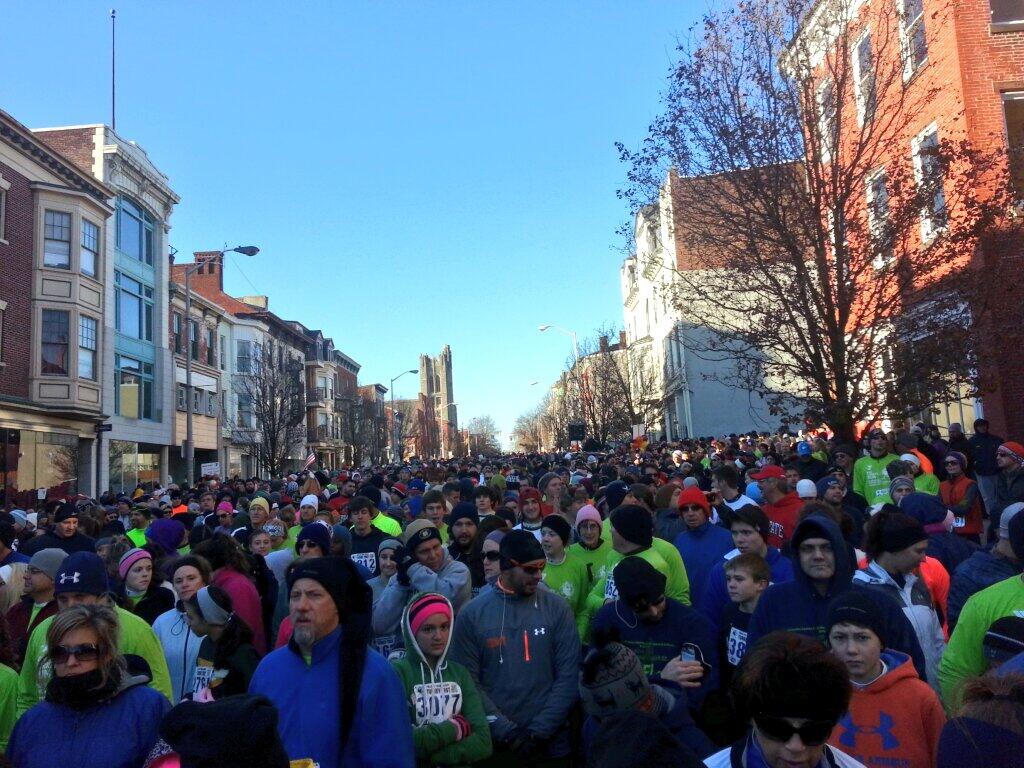 Most beautiful course
Rev3 Pocono Mountains 70.3 2014
. Despite how hard this course was, it was absolutely gorgeous. I remember spending the majority of the bike looking around in awe of how gorgeous the course was. Definitely recommend checking out the Poconos.
Best finishers shirt
I'm not normally that into race shirts but all I wanted from the
NYC Marathon
expo was a finishers jacket. After getting up at 7:30 and waiting in line for almost an hour the jacket I wanted was sold out in my size. My dad knew how much I wanted that jacket and called every running store in New York to find one. Opening it up on Christmas morning without him there was beyond heartbreaking.
Worst finishers shirt
York YWCA Y-Tri Ladies Sprint Triathlon 2013
. It was actually a tank top but it was so ill fitting that I gave it away.
Hilliest course
Sneaks Come out at Night 15k 2012
. I ran this race as a tune up for the NYC Marathon that never happened in 2012 and despite the hills I actually really liked this race. It was three loops of Druid Hill Park in Baltimore. By the third loop I was ready to roll down the hills instead.
Flattest course
Diamondman Sprint Triathlon 2013
. This race was so flat I actually wanted a hill and it was only 19 miles of biking. I never realized how much I use downhills for recovering until this race. Either way it made for some speedy splits.
Best start line
You had to know I was going to pick the
NYC Marathon
. I just don't think any race out there can beat running over the Verrazano to New York, New York with 50,000+ other people. It's one you really need to experience for yourself.
Best finish line
I spent a lot of time deciding which race had the best finish line but I'm going to have to go with the
NYC Marathon
again. Partly because I had such a hard race but felt strong during those last few miles and partly because of the magnitude of this race. Plus Central Park in early November is stunning.
Most emotional finish
I find it ironic looking back that this race was the most emotional finish given some of the other races I have done. At this year's
York YWCA Y-Tri Ladies Sprint Triathlon
I crossed the finish line and promptly collapsed onto the track in a ball of tears. While I crossed first, I knew I hadn't won based on other start times. Even though winning was my goal, I finished this race with nothing in the tank and performed significantly better than I thought I could considering I felt like the tank was empty from the start.
Best finish line food
Although the selection isn't large, at the
Keystone State Sprint Triathlon
the finish line food is Panera breakfast sandwiches. Something about the carbs and saltiness is absolutely perfect post race.
Best overall swag/gear
I may be biased for this because I was a college ambassador but at the
Nike Women's Half Marathon 2013
we were treated to a free Ellie Goulding concert the night before the race. About ten of us got to chat with her after the concert as well. On race morning I got to hang out in the VIP tent with the likes of Shalane Flanagan and Joan Benoit Samuelson. It's going to take a lot to beat that.
Coolest medal
At the
Nike Women's Half Marathon 2013
they gave out Tiffany's necklaces instead of finishers medals. While I don't wear it that often, I like the idea of getting something I can use instead of another medal.
Most disappointing finish
I trained so hard to break two hours at the
Rock N' Roll Philadelphia Half Marathon 2012
but didn't come close with a 2:08. A few weeks after the race I discovered my garmin needed to be recalibrated and had been clocking distances incorrectly. This was one of those races where you just know you could have done better and it eats away at you.
Race that took the most mental strength
My first marathon (
Harrisburg Marathon 2012
) was hands down the hardest race for me to make it through. Not even half way through the race I felt like complete shit and wanted to quit. 16 miles is a long way to go when you don't want to be running anymore.