The York YMCA Turkey Trot is one of my all time favorite races. I run in almost every year and always have a blast. This year my mom and dad, my boyfriend and I all ran it. The race is only a few miles from our house so we were able to sleep in a bit and ended up getting there around 8:15. I was hoping to run Tuesday or Wednesday but I just didn't want to so this was the first time I ran since the Harrisburg Marathon. I was a little nervous about how my legs would feel and contemplated doing a short warm up but never got around to it. Even though it is a "small local race" there were over 4,000 runners. Pretty impressive for York, Pa!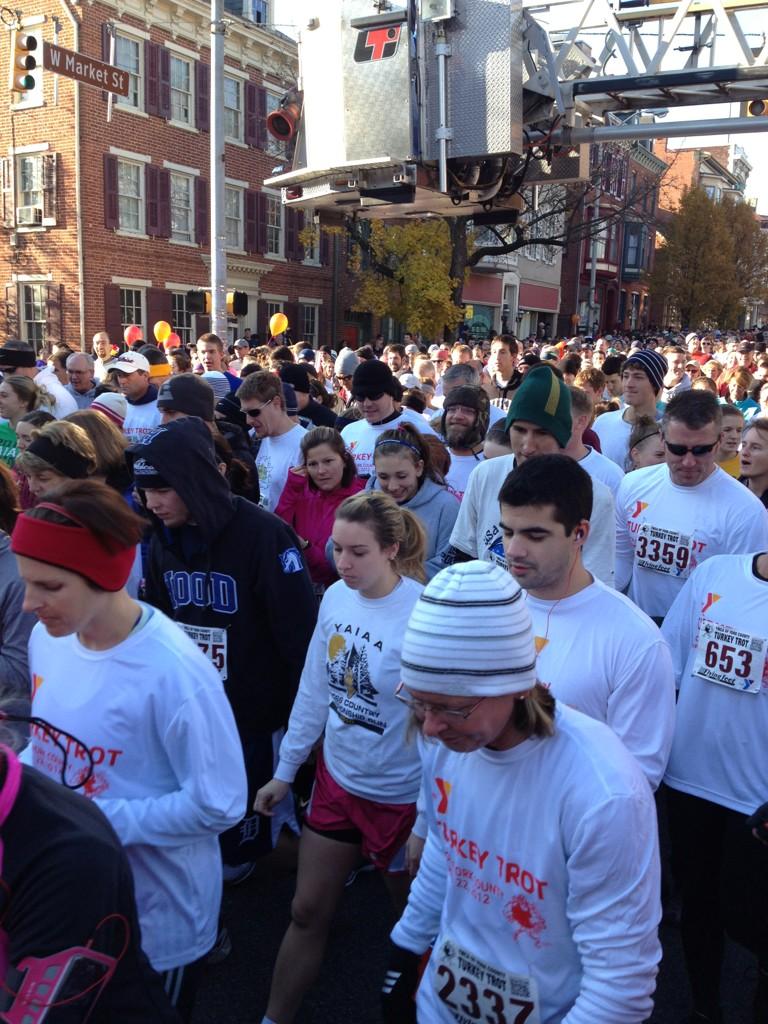 The race started a few minutes late but before we knew it we were off and running. My boyfriend decided to stick with me for the first mile but I could tell he wanted to run faster. I tried to keep up with him but my lungs didn't really want to. I really struggled to fall into a groove during the first mile and was getting frustrated. A little after the first mile my boyfriend decided to run ahead of me so I could do my own thing. I loved that he ran with me but I'm glad I didn't hold him back the entire time. During a nice downhill I started to find my rhythm. My chest was really burning and I was having trouble breathing but my legs felt pretty good. Definitely couldn't tell I ran a marathon a week and half before.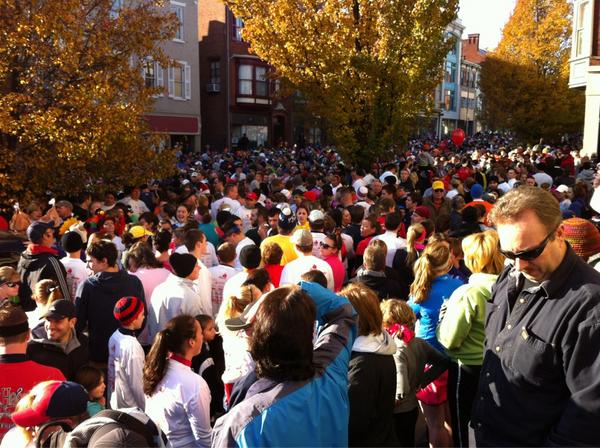 The last half of the race was much better than the first. I started to pick up the pace and finally felt comfortable in my stride. The course was new due to the increase in runners and I was really loving the rolling hills. I love flying on the downhills! The end of the race snuck up on me and before I knew it it was time to sprint to the finish. I felt great the last half mile and was reminded why I love running. As soon as I crossed the finish line and stopped running I felt like I was going to get sick though. This seems to be a common occurrence after 5K's. After grabbing some water I went to find my boyfriend and my parents. Everyone had a great race!
Mom-
27:47
Dad-
28:07
Boyfriend-
23:30
Me-
25:41
This was my mom's first ever running race and she has been been training for months. She had a botched knee surgery 9 years ago and started to run in the spring. It took her awhile to build up to running a 5K but she did great. My dad just had hernia surgery 2 months ago and this was his first time running since the summer. Both did awesome! My boyfriend didn't do a best time but would have had he not run with me for the first mile. He is the best! I'm really happy with my time. I didn't care too much about my time but a PR is always nice.